Hi Folks. I thought we could start going over the experience examples from Marketplace to remind everyone of some of the useful tips and tricks. I hope this will help generating some good ideas.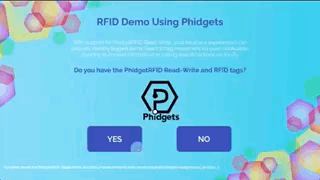 This is a demo of an experience using Phidget. It contains three scenarios illustrating the value of RFID technology in your Intuiface-based designs. Specifically, you'll see how to create lift-and-learn for retail, hands-on quizzes for museums and room security for any business.
Try this experience or watch the full demo here.
Bomee