Do issues like data breach, personal information exploitation touch your nerve? Then you'd be happy to learn about our effort to achieve ISO 27001 certification.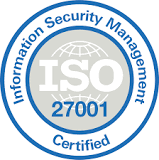 For those not familiar with the mix of letters and numbers, ISO 27001 is a global information security management standard (ISMS) that helps organizations ensure data confidentiality, integrity, and availability.
It's a lot of work and will have taken Intuiface a full year to prepare for and pass the final audit scheduled in February 2020. That being said, why should we or you bother about information security management? (especially when other digital signage software suppliers hardly talk about it)
Let's put it simply: since Intuiface is setting its position as an exemplar of the "data-driven and personalized digital signage experience" generation, we have self-tasked ourselves to serve one more responsibility which we insist to advocate and share with all Intuiface users.
Read Geoff's latest article illustrating the motivation behind our effort towards achieving ISO27001 standard!