Image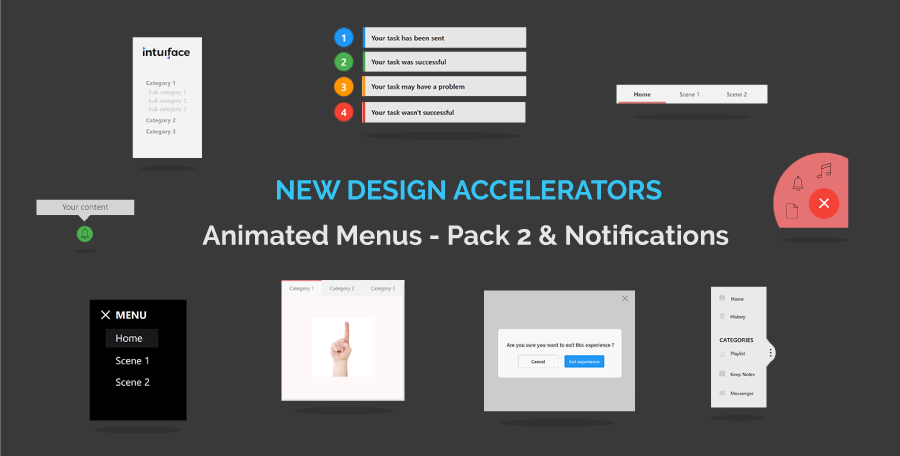 Hello, Community!
One of the great things about Intuiface Composer is it gives you total control over the visuals you will use to tell your story, sell your product, inform your employees, etc. However, and we sympathize, it would be nice if certain design elements were pre-built for drag-and-drop use.
That's why we created design accelerators (aka DAs), ready-to-use components that can be tailored as needed.
Today I'd like to announce the availability of two new design accelerator bundles: Animated Menus - Pack 2 & Notifications. In them you'll find a variety of professional looking templates for the display of interactive menus and notification windows. From dropdown, side bar, toggle tab menu to pop-up notifications and more! We hope you will find these useful.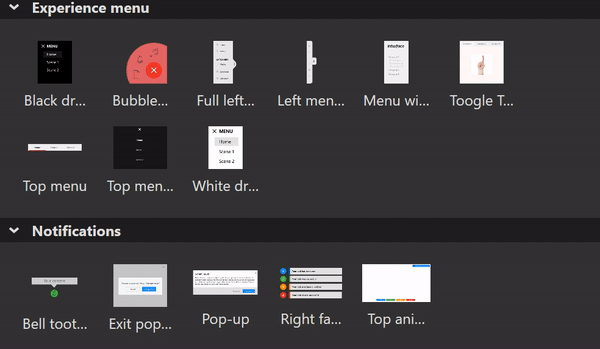 NOTE: These new design accelerators are not installed with Intuiface Composer. Like most DAs, they are downloaded into Composer using the Design Accelerators panel.
To view and add new design accelerator bundles not preinstalled with Composer, follow these steps:
Click the Get more Accelerators button at the top of the Design Accelerators panel.
A window labeled Get More Design Accelerators will open.
In that window, left-click the design accelerator bundle you want to initiate the download process.
(All DA bundles are stored in the Design Accelerators folder located at C:\Users\[username]\Documents\Intuiface\Additional content and will be accessible to all Intuiface projects located on the same PC.)
To know more about how to install design accelerators, click here.
To know more about how to create your own design accelerators, click here.