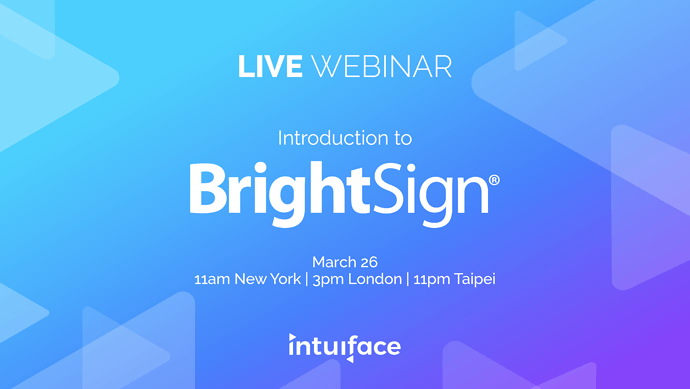 On March 11, Intuiface introduced its seventh Player-supported platform: BrightSign. (
Read more
)
With Intuiface, users of BrightSign hardware - the market's most popular digital signage media player - can easily transition from scheduled, playlist-based, non-interactive signage to personalized, immersive, customer- and data-driven content.
But what about those of you who aren't familiar with BrightSign?
Join us for a live webinar on March 26!
Time:11am New York | 4pm Paris | 11pm Taipei
Duration: 30 minutes
Geoff Bessin, Intuiface's Chief Evangelist, will be joined by
Frank Pisano, BrightSign's VP of Sales, Americas
Pierre Gillet, BrightSign's VP of Sales, International
Romeo Lucina-Bebel, BrightSign Senior Technical Support Specialist
to introduce the world of BrightSign to Intuiface users. The agenda includes details about BrightSign hardware, a look at Intuiface's technical requirements and integration features, and a Q&A. Is BrightSign hardware right for you? This webinar will help you answer that question.