Hi Intuiface Family!

I've got a project that has a page where a user can make several selections within 3 levels of a menu, which will then add/subtract to a live total.
I've had a request to add in carousel indicators, which is great and all, but I'm not quite sure how to implement it. The first line in the menu, the number of items is fixed, which presents no problem. However, when you select one of the items in the first menu, it will bring up a corresponding number of items to choose from in the 2nd row, which will be different depending on which item is selected in the 1 row. From the 2nd row, a selection of an item there will bring up one item in the 3rd row for each item chosen in the 2nd row.
For rows 2 and 3, I will need the grouping of carousel indicators to increase the number of circles depending on how many items are in that row, with row 3 especially being tricky as it really changes live, since users have an option to close an item in row three, effectively subtracting how many items it has. Whew! What a crazy scenario.
Everything is powered by an Excel spreadsheet, so I'm not sure if I'm going to have to add in another page to it to control how many carousel indicator circles there are? I've made a grouping of 5 circles for illustration purposes. How would I keep the grouping centered along the Y axis as the number changes? Ack, so many questions!
I've attached a screenshot of a mockup so that you can see what I mean. There is a lot of space from the bottom edge to the 3rd row as this is a 65" 4K monitor that is mounted on a wall, and I had to include some "dead space" on the bottom and top so that there isn't anything that a user would have to reach for/most of the action is in the center to make it easier for the user.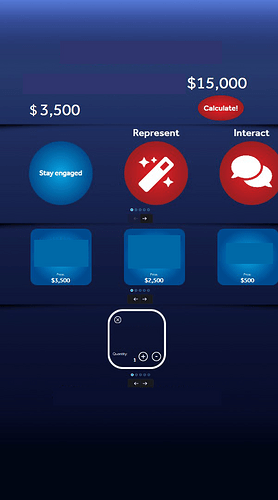 Thoughts? Thank you in advance for your help!
Megan