Hello, Community!
Christmas is just a few days away and we should talk about one of the most important holiday affairs, Decorations!
Decorating (especially indoor spaces) for holiday seasons is a joyful and romantic activity. Although, for a lot of people and in some situations, it can also be a stressful thing. Think about the time and the effort it takes to find back the decoration items from the year before then matching the right pieces and untangling giant balls of light wires to finally realize some are broken. Talking about the light decorations, what about the messiness and the room they take?
I may be describing my own ordering issues but I'm sure that I'm not the only one wishing to escape the love hate relationship with typical Christmas light decorations.
Good news though, we are sitting on the perfect solution!
It's called the Philips Hue Interface Asset on Intuiface.
This interface asset (IA) enables you to control Philips Hue Lights - both the bulb and the LightStrips - over a local network (no wires!

) using any device.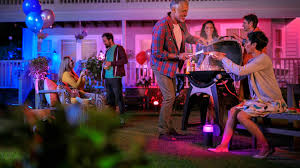 Image: Mashable.com
Of course with your Intuiface interactive experience, you can
turn lights on/off
change their color/brightness/saturation
make them blink or enter a color loop mode
and be even more creative with it. How? here's an Intuiface+Philips Hue experience (which I'd like to call "the Mood Setter") created by @tosolini (thanks Paolo!)
Ready to be creative and do something different and interactive for this Christmas?
Check out our Help Center article about 'Interface asset - Philips Hue lights'
Bomee