Hi everyone!
I'm testing out Intuiface to try and figure out if we can use it for a video wall we're working on.
I would love to get some input on what's doable or not. I checked on the documentation and forum but no luck so far.
A - We need to integrate two Unreal Engine experiences to Intuiface. Is there a way to integrate the UE game directly in Intuiface or is using this method the best?
B - I was able to integrate one Unreal Engine experience using the method above, but our video wall will actually embed 2 Unreal Engine experiences which will be interacted with by 2 different users.
The problem is that once you click on one of the two UE experiences, then windows "focuses" on it and the multitouch doesn't allow a second user to interact with the second game.
See attached a mockup of how our Intuiface experience will be split up.
I put in red the Intuiface elements (3 browsers) and in blue the Unreal Engine windows which are being interacted with as a background element.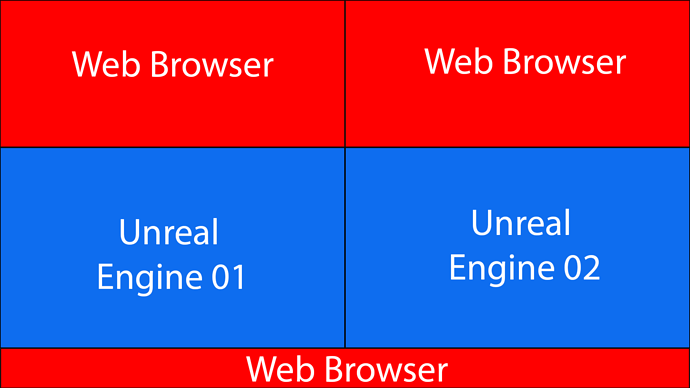 Let me know if you have any questions or if my explanation is not clear.
Chris