A fan of the Intuiface virtual keyboard? Now a cherry on the cake: new enhancements are ready for you!
Here's what you can start using today.
1. New Player setting: Display or hide the virtual keyboard
Now you can decide to display or hide the Intuiface virtual keyboard for the Text Input Asset and Web Browser Asset. This feature can be usefully applied when it is your preference for a physical keyboard to be used.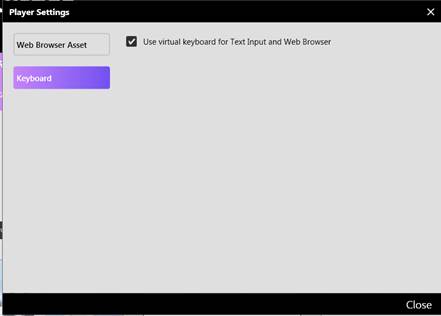 2. Action keys Color Change
Responding to a request made by many users, we have changed the color of action keys (Delete, Enter, Alt, Shift) to grey to make them stand out from the rest of the keys. Sorry, this color is not customizable. However, don't forget that you could already customize the keyboard background color.


3. All Player-supported platforms have the Alphanumeric + Numpad style of keyboard
This feature was already available on Player for Windows. Now you can also enjoy it on every other platform supported by Player


4. Keyboard actions reset inactivity timer
Now when keys are pressed on the virtual keyboard, the inactivity timer is reset.
---
That's it for now! Gotta go work on more enhancements.
Hope you'll like the improved virtual keyboard!