Hello, Community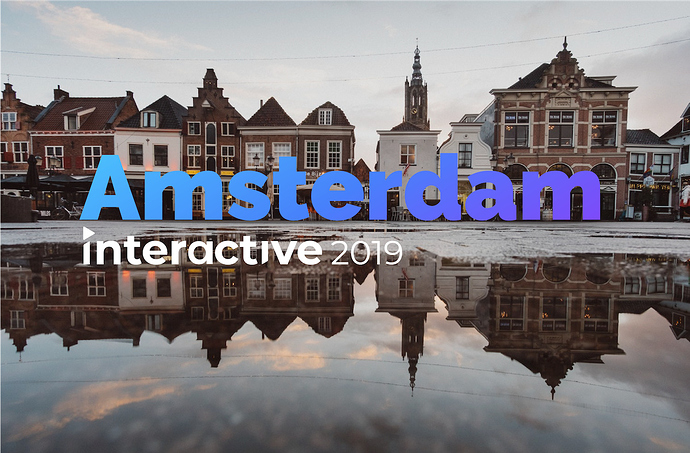 Did you register for our
first user conference - Interactive 2019
? or is the long trip you'll have to make holding your back?
I'm sure that Interactive 2019 alone is already a good reason for you to make your way to Amsterdam but it sounds like a good idea to make your trip into a bigger package with some extra fun.
Here are some interesting events in Amsterdam area that you can check out during your stay in the city between the 1st and 2nd week of February.
You are welcome!
30 Jan-01 Feb 2019
Park Plaza Amsterdam Airport, Lijnden,
OmnichannelX is the world's first conference dedicated to helping organisations build strong personal relationships with their audience. Many talents are involved in this process – from writers and designers, to marketing strategists and digital developers.
04 Feb 2019
RAI Amsterdam, Amsterdam
the one chance for ISE attendees each year to follow the important trends in the building industry that affect the technology inside the building. From conference rooms to smart homes to smart office buildings to multi-dwelling units, the Smart Building Conference covers the latest smart technology and solutions, impacting on the installation and integration marketplace. Each year Smart Building Conference provides attendees with a unique business and technological insight on inbuilding technologies and the future of smart buildings, smart homes and smart offices. This year's one-day conference will show how we can make existing buildings smart and how we can make the latest generation of smart buildings. Our theme, Making Buildings Smart, Making Smart Buildings, examines how all stakeholders can work together to use technology to make homes, offices and commercial buildings smarter and better for all of us.
05 Feb 2019
Hotel Okura Amsterdam, Amsterdam
XR Summit ISE is a one-day B2B strategy conference focused on the Virtual (VR), Augmented (AR) and Mixed Reality (MR) industry. Taking place on Tuesday 5 February in the Hotel Okura, it will explore the latest in those technologies, business strategies, and solutions and how they impact and empower the AV business.
05~08 Feb 2019
RAI Amsterdam, Amsterdam
the world's largest exhibition for AV and systems integration professionals, a location where markets and people come together to collaborate, learn and do business. The 2019 edition will attract over 1,300 exhibitors and 80,000 attendees, making it the biggest ISE so far.
6 February, 14:00 – 18:00
Amsterdam, Hotel Okura
05/02/2019
Dam 1, 1012 JS AMSTERDAM
Chinese New Year, also known as the Lunar New Year, is the most important event in the Chinese calendar. It's a special occasion whichever part of the world you're in!
01/02/2019
Lloyd Hotel, Amsterdam
MONO JAPAN is a one time a year celebration of contemporary Japanese craft and design. It is an event and a platform devoted to sophisticated beauty grounded in tradition, enriched with contemporary thinking, and refined to perfection with uncompromising skills. MONO JAPAN represents design that defies the gravity of the mundane and brings joy to the simplest rituals of every day.
IMPRO Amsterdam International Spontaneous Theatre Festival
21/01/2019 ~ 02/02/2019
Compagnietheater, Kloveniersburgwal 50, 1012 CX AMSTERDAM
A week of world-class spontaneous theater in Amsterdam at the Compagnietheatre. The Netherlands' only international improv festival brings a whole week of spontaneous theatre to the city. Alongside the main performances, there are traditionally late-night shows, workshops, an open stage and an afterparty to top it all off.
14/02/2019 ~ 15/02/2019
Amsterdam, Netherlands
This conference is aimed at Design Leaders & UX Designers, hungry to create unique digital experiences. Over 2 days & 24 talks at DelaMar Theater our aim is to help you create a solid work methodology, generate a culture of design within your organization, structure work teams, implement the most efficient design, prototyping & animation tools, whilst gaining a global understanding of the latest web trends & learning the secrets behind the success of the most important designers.
02/02/2019
Taets Art & Event Park, Hemkade 16, Amsterdam
as the name says, a mega size flea market!