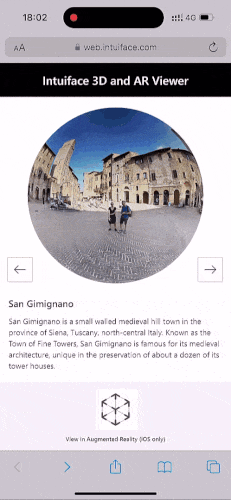 I'd like to introduce a new prototype that utilizes Player Next Gen (PLN) and its recent support for 3D assets to provide Augmented Reality (AR) experiences on mobile devices.
This prototype offers the ability to explore a series of 3D photospheres featuring various locations in Italy. These 360-degree images were captured using the Polycam iPhone app, known for its 3D scanning capabilities. Recently, Polycam introduced the ability to generate 360-degree panoramas directly on your iPhone, using AI to fill in gaps at the zenith and nadir.
For each panorama, I exported two file formats from Polycam. The first is a GLB file, which Intuiface PLN can display within HTML. The second is a USDZ file, which iOS can natively display in AR mode within the Safari browser. This is the Excel database that powers this experience.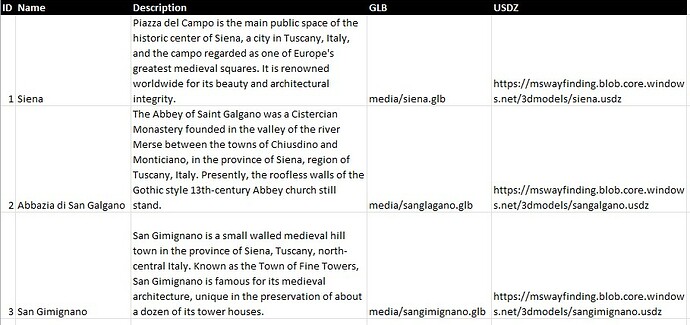 Please note that while GLB files can be included in the Intuiface XP, USDZ files require hosting on an external web server to enable AR functionality on iOS. In my case, I hosted the USDZ files on Azure and provided their URLs in the Excel database.
The GLB panoramas are genuine 3D models, allowing you to rotate and zoom them. To view a sphere in AR mode, simply click the "View in Augmented Reality" button, wait for the model to download, tap the static AR thumbnail, and position the 3D sphere on a suitable plane. Intuiface PLN does not inherently support opening URLs in a new browser tab, but we have a solution: @Seb has shared a custom IA called "OpenWindows" that opens a new tab in your system browser and loads the specified URL.
Download Augmented Reality PLN (40MB)
Try it out on your iPhone, keeping in mind that it works with recent devices running Safari as the default browser.