For years now, thanks to interface assets, IntuiFace has been talking to third party data sources, business logic, and devices. With IntuiFace 6.2, we've flipped the coin. Now those third party internet-connected apps, services, and devices can talk to IntuiFace! It's two way communication and the possibilities are endless.
We're delivering two out-of-the-box examples to knock you over. With our Zapier and IFTTT support you can have 1000+ apps talk to IntuiFace. Automate workflows joining IntuiFace with all the tools your team uses — Evernote, Instagram, Trello, Gmail, Twist, JIRA, Salesforce, Slack, and more — or connect an IntuiFace experience with hundreds of cloud services including Gmail, Alexa, iCloud, Philips Hue, etc. without writing a single line of code.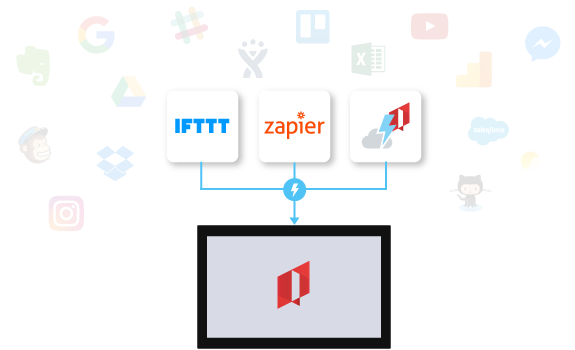 Zapier + IntuiFace:
Connect your favorite internet-connected work apps to IntuiFace. Read about it
IFTTT + IntuiFace:
Connect the internet-connected apps, services and devices you use every day to IntuiFace Read about it
---
Here are some other additions we've made in this release
Improved 3D Model support: New asset properties include multiple lighting options and control over the initial model orientation

Friendlier license management in Composer: We've made it easier to share a small number of Composer licenses with a large number of collaborators.

Super fast Experiences panel: The Experiences panel in Composer and Player is now quite zippy, no matter how many experiences you have listed.

Improved REST Web Service support: Now you can set an automatic refresh, detect errors, and - for you techies - work with complex JSON bodies.
And as always, there's much more packed in this new feature release, including a couple of pricing upates.
Click here for all the details.