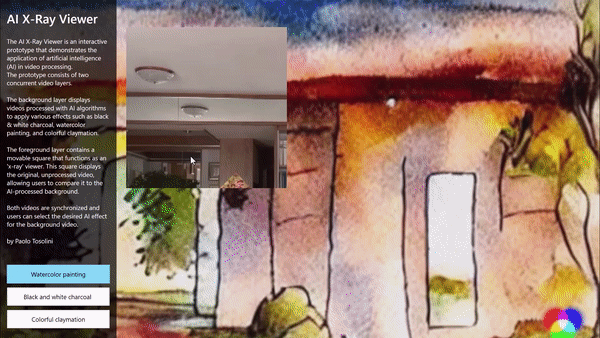 This interactive prototype demonstrates the application of artificial intelligence (AI) in video processing. The prototype consists of two concurrent video layers.
The background layer displays videos processed with AI algorithms to apply various effects such as black & white charcoal, watercolor painting, and colorful claymation.
The foreground layer contains a movable square that functions as an 'x-ray' viewer. This square displays the original, unprocessed video, allowing users to compare it to the AI-processed background. Both videos are synchronized and users can select the desired AI effect for the background video.
How It Is Done
First, I recorded a short video of myself using my iPhone. Next, I downloaded the iOS app RunwayML, which provides generative AI video tools for transforming videos with special effects. Using RunwayML, I created three different variations of the video, each with a duration of 3 seconds—the maximum length allowed by the app's free trial.
With the video assets prepared, I opened Intuiface and utilized a Design Accelerator called Visual Effects.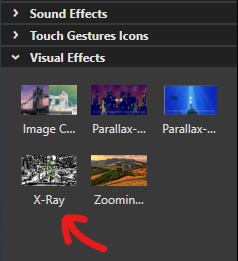 I then dragged and dropped the X-Ray component onto the page and replaced the image placeholders with video players.
To enhance the user experience, I created a simple menu that allows users to swap between the AI-processed videos. Additionally, I used ChatGPT to assist in crafting a compelling description for this post

.